TOPSELLER BRAKE PADS
HARDHEADED RAM
WILL PERFECTLY FIT YOUR BIKE
SHOP BY BRANDS
BEST BRAKE PADS FOR MTB & EBIKES
Looking for high-quality brake pads for your ebike? Look no further! Our selection of brake pads is specifically designed to provide reliable and efficient stopping power for your electric bike. Whether you're commuting or hitting the trails, our brake pads will give you the confidence you need to ride with ease. Shop now and experience the difference for yourself!
WHY HARDHEADED RAM
4 reasons why you should buy in Hardheaded Ram.
We carry a wide range of brake pads for all brands and models with variety that you can only found with us. Will perfectly fit your bike.
100% POSITIVE
GOOGLE REVIEWS
Best pads I've ever used! They bite well right out of the box, even better when you properly bed them in. I've been using the Blue DH Racing pads for Magura MT7 on my Cube Stereo Hybrid eMTB and I'm very pleased with their performance. I'll try the Green ceramic pads soon.
The Emtb brake pads are a huge improvement over the Shimano OEM pads. Great bite. No squealing. Easy to bed in. I highly recommend.
Terrific brake pads. Resin beats Shimano hands down--esp for bangin' around NYC. I got 'em in two days!
These brake pads are top notch, I need something that will stop me when I'm traveling at 35mph. These do the job! Also great customer service, and extremely fast shipping! Give them a shot, I sure did.
Great website as well as user friendly. Prices are in line and maybe a bit lower than other sites.
Corey Coogan Cisek
2022-09-10
Firstly, great product. I really cannot detect a difference between their brake pads an major brands except price! Secondly, great customer service. They are beyond responsive and friendly too. Kudos all around!
I put DH pads on with new 220mm rotors and wow great braking. No squealing at all. Brake pads look better quality than the SRAM metalics my bike had. Very happy. Carlos has my business for life.
The people at Hardheaded Ram are very helpful and quickly ship quality product. The price on these pads are great! I always like to have extra pads in my vehicle as my Ebike goes through them!
I was in need of quiet brake pads for two e mountain bikes. Carlos gave me two recommendations for each bike. I received them quickly and installed them just the other day. They are awesome! Work great and the awful noise is gone from both bikes! Thanks! I will recommend your company very highly when talking about brake pads and rotors!
Can't say enough about these blue pads. Been through many different types and brands on my many MTBs and never have had the absolute braking power and above all, SILENCE that these pads have. SRAM, Shimano, other....doesn't matter. Cable, Hydro.....doesn't matter. Highly recommend for plus or fat tire bikes. Super value for the price. These are the stuff!
All products are drop-shipped directly to you from our warehouse in Los Angeles, California. Shipping is FREE on all orders via USPS First Class (3-5 days).
Passion for biking
Bike Brake Pads Specialist
Hardheaded Ram
Ordering direct from us you will get same day FREE shipping and your order with in 3 to 5 days, depends on you location, we also offer Priority Mail 2 to 3 days for $6.99 .
We are located in Los Angeles , California.
Hardheaded Ram Bike brake pads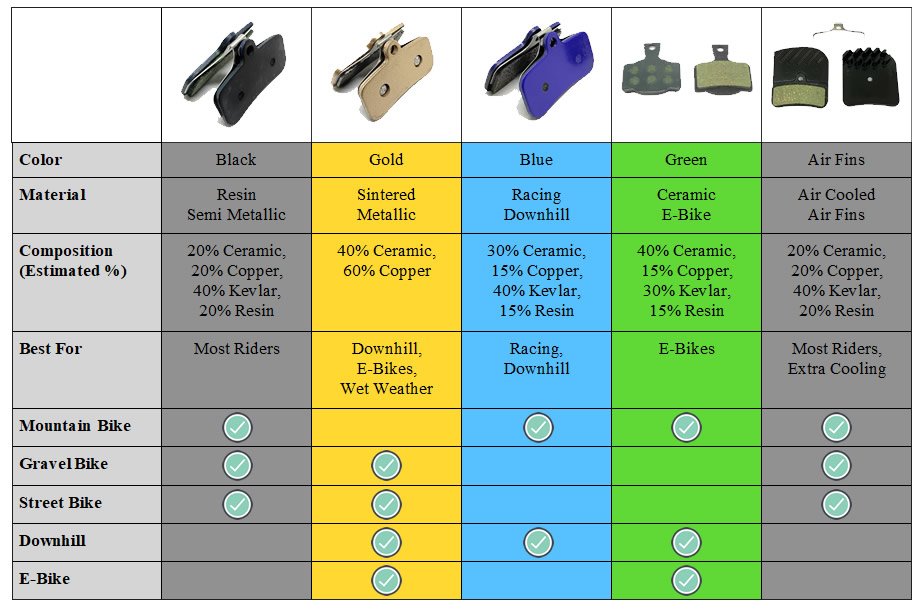 The Hardheaded Ram Difference
Our pads include copper fiber—instead of cheaper steel fiber—for better wear resistance and thermal conductivity.
We use ceramic fiber in all of our pads, so that they perform better under high temperatures.
We use Kevlar fiber to make our pads quieter by absorbing the vibration that causes loud braking noise.
Skill & brakes are everything
New Video | Chesebro Ride
Check the best brake pads for your mountain, gravel, race, street or downhill bike.
The ultimate brake pads. The most exclusive brake component.
SUBSCRIBE TO OUR NEWSLETTER
Will be used in accordance with our Privacy Policy
Download our product catalog!